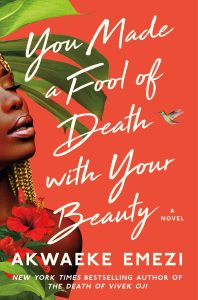 You Made a Fool of Death with Your Beauty / EMEZI Akwaeke  – Atria Books (2022)
Feyi Adekola wants to learn how to be alive again.
It's been five years since the accident that killed the love of her life and she's almost a new person now—an artist with her own studio, sharing a brownstone apartment with her ride-or-die best friend, Joy, who insists it's time for Feyi to ease back into the dating scene. Feyi isn't ready for anything serious, but a steamy encounter at a rooftop party cascades into a whirlwind summer she could have never imagined: a luxury trip to a tropical island, decadent meals in the glamorous home of a celebrity chef, and a major curator who wants to launch her art career.
Greenwich Park / FAULKNER Katherine  – Gallery Books (2022)
Helen's idyllic life—handsome architect husband, gorgeous Victorian house, and cherished baby on the way (after years of trying)—begins to change the day she attends her first prenatal class and meets Rachel, an unpredictable single mother-to-be. Rachel doesn't seem very maternal: she smokes, drinks, and professes little interest in parenthood. Still, Helen is drawn to her. Maybe Rachel just needs a friend. And to be honest, Helen's a bit lonely herself. At least Rachel is fun to be with. She makes Helen laugh, invites her confidences, and distracts her from her fears. There are more than a few secrets laying beneath the broad-leaved trees and warm lamplight of Greenwich Park.
The Night Shift / FINLAY Alex – Minotaur Books (2022)
It's New Year's Eve 1999. Y2K is expected to end in chaos: planes falling from the sky, elevators plunging to earth, world markets collapsing. A digital apocalypse. None of that happens. But at a Blockbuster Video in Linden, New Jersey, four teenage girls working the night shift are attacked. Only one survives. Police quickly identify a suspect who flees and is never seen again.
Fifteen years later, in the same town, four teenage employees working late at an ice cream store are attacked, and again only one makes it out alive. Both surviving victims recall the killer speaking only a few final words… "Goodnight, pretty girl."
On a collision course toward the truth, all three lives will forever be changed, and not everyone will make it out alive.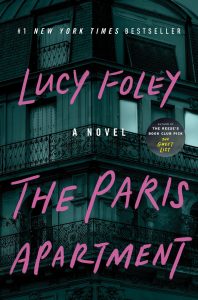 The Paris Apartment / FOLEY Lucy – William Morrow (2022)
Jess needs a fresh start. Her half-brother Ben didn't sound thrilled when she asked if she could crash with him for a bit, but he didn't say no, and surely everything will look better from Paris. Only when she shows up – to find a very nice apartment, could Ben really have afforded this? – he's not there.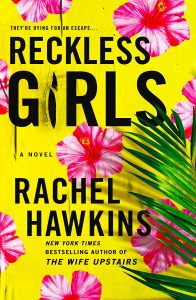 Reckless Girls / HAWKINS Paula – St. Martin's Press (2022)
When Lux McAllister and her boyfriend, Nico, are hired to sail two women to a remote island in the South Pacific, it seems like the opportunity of a lifetime. Stuck in a dead-end job in Hawaii, and longing to travel the world after a family tragedy, Lux is eager to climb on board The Susannah and set out on an adventure. She's also quick to bond with their passengers, college best friends Brittany and Amma. The two women say they want to travel off the beaten path. But like Lux, they may have other reasons to be seeking an escape.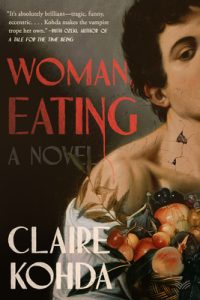 Woman, Eating / KOHDA Claire – HarperVia (2022)
A young, mixed-race vampire must find a way to balance her deep-seated desire to live amongst humans with her incessant hunger. As Lydia develops as a woman and an artist, she will learn that she must reconcile the conflicts within her-between her demon and human sides, her mixed ethnic heritage, and her relationship with food, and, in turn, humans- if she is to find a way to exist in the world. Before any of this, however, she must eat.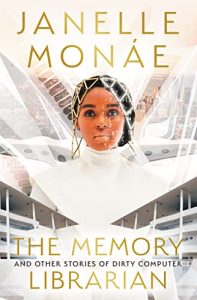 The Memory Librarian: And Other Stories of Dirty Computer / MONAE Janelle  – Harper Voyager (2022)
In The Memory Librarian: And Other Stories of Dirty Computer, singer-songwriter, actor, fashion icon, activist, and worldwide superstar Janelle Monáe brings to the written page the Afrofuturistic world of one of her critically acclaimed albums, exploring how different threads of liberation—queerness, race, gender plurality, and love—become tangled with future possibilities of memory and time in such a totalitarian landscape…and what the costs might be when trying to unravel and weave them into freedoms.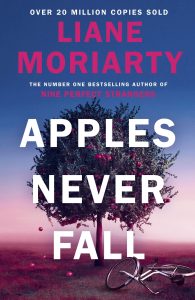 Apples Never Fall / MORIARTY Liane – Henry Holt and Co. (2021)
If your mother was missing, would you tell the police? Even if the most obvious suspect was your father? This is the dilemma facing the four grown Delaney siblings.
The Verifiers / PEK Jane – Vintage (2022)
Part literary mystery, part family story, The Verifiers is a clever and incisive examination of how technology shapes our choices, and the nature of romantic love in the digital age.
Lost & Found: A Memoir / SCHULZ Kathryn – Random (2022)
Eighteen months before Kathryn Schulz's father died, she met the woman she would marry. In Lost & Found, she weaves the story of those relationships into a brilliant exploration of the role that loss and discovery play in all of our lives. The resulting book is part memoir, part guidebook to living in a world that is simultaneously full of wonder and joy and wretchedness and suffering–a world that always demands both our gratitude and our grief.
The Cartographers / SHEPHERD Peng – William Morrow (2022)
Nell Young's whole life and greatest passion is cartography. Her father, Dr. Daniel Young, is a legend in the field and Nell's personal hero. But she hasn't seen or spoken to him ever since he cruelly fired her and destroyed her reputation after an argument over an old, cheap gas station highway map. But when Dr. Young is found dead in his office at the New York Public Library, with the very same seemingly worthless map hidden in his desk, Nell can't resist investigating. To her surprise, she soon discovers that the map is incredibly valuable and exceedingly rare. In fact, she may now have the only copy left in existence… because a mysterious collector has been hunting down and destroying every last one—along with anyone who gets in the way. But why? To answer that question, Nell embarks on a dangerous journey to reveal a dark family secret and discovers the true power that lies in maps…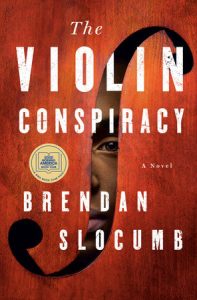 The Violin Conspiracy / SLOCUMB Brendan – Anchor (2022)
A mystery about a Black classical musician whose family heirloom violin is stolen on the eve of the most prestigious classical music competition in the world.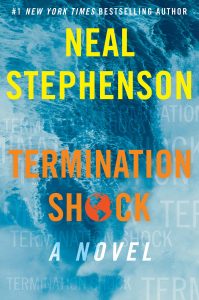 Termination Shock / STEPHENSON Neal – Harper Collins UK (2021)
One man has a Big Idea for reversing global warming, a master plan perhaps best described as "elemental." But will it work? And just as important, what are the consequences for the planet and all of humanity? Should it be applied?
Ranging from the Texas heartland to the Dutch royal palace in the Hague, from the snow-capped peaks of the Himalayas to the sunbaked Chihuahuan Desert, Termination Shock brings together a disparate group of characters from different cultures and continents who grapple with the real-life repercussions of global warming. Ultimately, it asks the question: Might the cure be worse than the disease?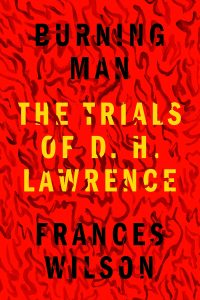 Burning Man : The Ascent of DH Lawrence / WILSON Frances – Farrar Straus and Giroux (2021)
 "Never trust the teller," wrote D. H. Lawrence, "trust the tale." Everyone who knew him told stories about Lawrence, and Lawrence told stories about everyone he knew. He also, again and again, told stories about himself: the pioneer of autofiction. In Burning Man, the acclaimed biographer Frances Wilson tells a new story about Lawrence, focusing on his decade of superhuman writing and travel between 1915, when The Rainbow was prosecuted, and 1925, when he was diagnosed with tuberculosis. Taking after Lawrence's own model, Dante, and adopting the structure of his Divine Comedy, Burning Man is a distinctly Lawrentian biography, one that pursues Lawrence around the globe and reflects his life of wild allegory.
For more English books have a look at our section of "Langues Etrangères"  available at Sésame, Milles et Une Pages and Thomas Owen libraries!